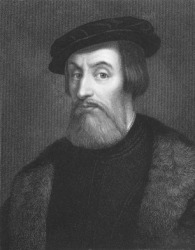 Hernando Cortes was an explorer and a conqueror. He was part of a group of men who came to the New World seeking their fortune. He was responsible for the conquest of the Aztecs and also an important discovery. He probably didn't realize at the time that the small cacao bean could mean wealth and fame.
Background on Hernando Cortes
Cortes was born in 1485 and died in 1547. At 19 years old, he sailed for the New World. In 1511, he moved to Cuba and became the secretary to Diego Velaquez and later, owned a ranch there. Soon, he led expeditions to the mainland and conquered Montezuma and the Aztecs in 1519. One of the treasures he found was not gold or silver, it was chocolate.
Discoveries of Hernando Cortes
When Cortes came to the Aztec people, they mistakenly thought he was a god. It was prophesied that the god Quetzalcoatl would be reincarnated in 1519, freeing the Aztecs from having to perform human sacrifices to guarantee that the sun would continue to rise.
Cortes was treated like a god, and offered a drink called Xocolatl. Cortes proceeded to take over the kingdom, receiving vast stores of cacao beans. These beans were used as currency as well as making a drink.
Cortes returned to Spain with the beans and equipment for making Xoclatl for Charles V. Columbus had introduced the drink earlier but it was not well received, probably because it was strong and bitter. When sugar began to be added, as well as spices like vanilla and cinnamon, the drink became quite popular. The taxes on it were high, so only the rich could afford to drink it.
Seeing the value of the cacao beans, Cortes started plantations in Mexico, Trinidad, Java, Haiti, and other places in the Caribbean. The Spanish dominated the cocoa industry for many years. Because this was highly profitable, the Spanish kept the details of processing the cocoa private. The work was done by monks, who guarded their secret, until 1580, when a chocolate production plant was built in Spain.
History of Chocolate
Columbus was actually the first to discover chocolate and brought it back to Europe, but Cortes was instrumental in its development into a better tasting beverage, and also actively cultivated the plants.
Chocolate became popular with the wealthy of Europe. In 1659, King Louis XIV gave David Chaillou the exclusive right to sell chocolate in Paris, which he did so for 30 years.
The elite of society quickly became enamored with this sweet treat and it became fashionable to eat it. In 1657 the first chocolate house in England was opened. It was called The Coffee Mill and Tobacco Roll, and the chocolate drink they offered was very expensive. By 1674, chocolate was beginning to be used as an ingredient in pastry recipes.
Dutchman Conrad J. van Houten made a press that made cocoa powder in 1929. He called this process "Dutching." This invention, in turn, lead to the creation of the first chocolate bar. It was made in 1847 by Joseph Fry. In 1861, Richard Cadbury designed and produced the first Valentine's Day box that was shaped like a heart.
After Henri Nestle, a German confectioner, used powdered milk to make infant formula, Daniel Peters began using powdered milk to create the first milk chocolate bar.
Now chocolate is enjoyed the world over. It is now molded into hundreds of shapes, for many occasions. There are thousands of chocolate treats, even whole cookbooks devoted to chocolate.
Cortes knew the value of selling chocolate, but probably never dreamed it would be a phenomenon like it is today.