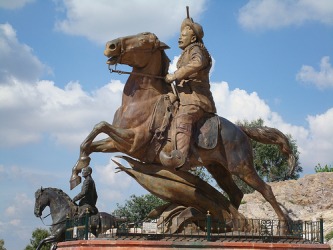 Towards the end of the Mexican Revolution, Pancho Villa had been allowed to retire to his spacious ranchero in northern Mexico. The only condition of his surrender was that he not enter politics again. Villa surrendered in 1916 and remained at home, dealing with personal issues and taking care of his ranch. He was shot in 1923 when he went into town for ranch business.
Pancho Villa the Warlord
Pancho Villa had been a ruthless warlord in the northern Mexican state of Chihuahua. He had an army of his own that he had used to fight against the others vying for the Presidency of Mexico during the Mexican Revolution.
He was a bandit in both the regions close to home in Mexico and in those just across the border in the United States. Villa continued to wage a guerrilla war against the other possible candidates for control of the government and against the United States.
Pancho Villa's Killers
Pancho Villa made a strategic move to agree to surrender himself to Alvaro Obregon towards the end of the fighting during the Mexican Revolution. Pancho had been a ruthless opponent during the war and was not to be trusted to keep his word.
The agreement made between the two was that Pancho would retire to his hacienda in Chihuahua. He also agreed to remain out of Mexican politics. This would ensure that Obregon would not have to worry about Villa during the upcoming elections. He knew that if Villa entered the race, he could swing many thousands of supporters to his side.
After the assassination of President Carranza a mere three years after he became President, Villa, who had had kept his word up to that point, decided to break the terms of his agreement and once again involve himself in Mexican politics. This was directly against his deal with Obregon and it was the perfect excuse for Obregon to to remove a potential enemy on the political front.
Pancho Villa Dies
Villa was in the habit of going into Parral to take care of business during the week. On July 20, 1923, Pancho went into town to take care of some errands. This time he had only taken two of his bodyguards, an assistant and a few associates. He was taking care of banking business and picking up a consignment of gold to pay his staff at the ranch.
As he was riding back to his hacienda in his 1919 Dodge Roadster, someone on the street yelled "Viva Villa." This must have been the signal for seven men in an upstairs apartment to open fire.
The seven gunmen shot about 40 bullets into the automobile. When he was examined, doctors determined that Villa had been hit nine times. Four of the shots were in the head, killing him almost immediately. The other bullets had killed the two bodyguards and his assistant. It has been reported that he died saying "Don't let it end like this. Tell them, I said something."
During Villa's life, he had been a ruthless bandit who had made many enemies. Many fathers and brothers would have loved to have the opportunity to take revenge for the abduction or rape of their wives and daughters. There were any number of potential suspects in determining who killed Pancho Villa.
Conspiracy from the Start
The assassination plot is believed to have been developed by Plutarco Elías Calles (who went on to be the President of Mexico) and Joaquin Amaro (a revolutionary general and military reformer). It is reported that Obregon gave tacit approval of the assassination of Villa. A state legislator from Durango, Jesus Barranza admitted to being the sole person responsible for the plot. He was sentenced to a long prison term, but was pardoned three months later.
Felix Lara was the Federal commander of the troops in Parral. He received a bribe of 50,000 pesos to make sure that all the police and troops were not in town on the day of the assassination. It can safely be said that no one missed Pancho Villa and most were happy that he was gone.