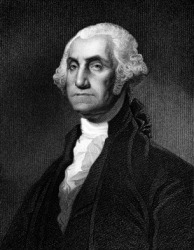 George Washington was the first president of the United States, and is immortalized on the dollar bill. Although you have most likely studied George Washington at one point in your education, you might not know a lot of the details about his early life.
George Washington's Schooling
The majority of Washington's childhood was spent at Ferry Farm in Virginia. Washington's older brothers were sent to England for their education, however Washington was not. Due to the death of his father it was no longer economically feasible to send him away.
Instead of heading to England, Washington was tutored by his brother, who specifically trained Washington to become a surveyor. It is unclear from the records if perhaps Washington also received additional education from a boarding school nearby, but it is known that Washington's education was over by his mid-teenage years.
The fact that Washington did not receive the same formal education that his brothers had received from England was a source of irritation and embarrassment for Washington. However, Washington eventually received a surveyor's license from the College of William and Mary. The exact details of how long Washington attended the school or what the requirements were for the license are unclear.
George Washington's Early Life
George Washington was born on February 11 in 1731 according to the Julian calendar, and on February 22 in 1732 according to the Gregorian calendar. He was born in Westmoreland County in Virginia at Pope's Creek Plantation.
Washington's family had lived in the colonies for a number of generations, thus distancing themselves from their British past. His father was Augustine Washington, and his mother was Mary Ball Washington. His father was a planter, and later became an iron minor. Washington's family was were considered middle class.
Washington was part of a large family, with two older siblings, and five younger siblings. After the passing of his father, when Washington was only eleven years old, his older brother Lawrence took care of the family and replaced Augustine Washington as the "head" of the family. Lawrence Washington was a great influence for Washington, and helped him develop the values that he was known for.
Washington's Military Career
Unfortunately, Washington's brother Lawrence became sick with tuberculosis. Washington took his brother with him to Barbados in 1751 because he hoped that the warmer weather would help his brother's condition. This was the only time that Washington travelled outside of North America. It was on this trip that Washington contracted smallpox, marking his face with the scars seen in some paintings.
Regrettably, the trip was not a success and Lawrence's health did not improve. In 1752, Lawrence died and his position of Adjutant General of Virginia was divided into four different offices in four district adjuncts. Washington was appointed to one of these offices, and promoted to the rank of major in the Virginia militia. Thus, Washington's military career began.
Shortly after being appointed in 1752, Washington was entrusted to carry a British ultimatum to the French Canadians. The message requested that the French Canadians cease their expansion into the area that is present day Ohio.
Of course, the French Canadians did not cease, and this was one of the catalysts for the French and Indian War (also referred to as the Seven Year War). Washington's role in this war was extremely important because of the experience that he gained.
Washington was a Lieutenant Colonel in the war, leading a troop to Fort Duquesne. Although Washington was ultimately overwhelmed at the Fort, he learned a valuable lesson from the experience and it was his only surrender in his entire career. Thus, it is easy to see how Washington's early life shaped him into the great man that he later became.