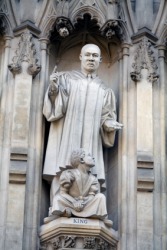 He was loved by some, yet hated by others, and he worked tirelessly to assure that people could enjoy the freedom of equality. Martin Luther King Jr.'s death is more than just a date on the calendar. It represents a point in American history when millions recognized that things had to change, capping over a decade of work and struggle by King. Even after his life was over, he changed the world. He was the focal point of the movement in his lifetime, and Martin Luther King Jr. remains an icon of the movement these many decades after his death.
When Martin Luther King Jr. Died
His life was not without its difficulty; he was a unifying figure for some and a polarizing figure for others. His life was threatened numerous times. His home was bombed, he was arrested many times, and he was assaulted numerous times, but when did Martin Luther King Jr. die? In the spring of 1968, Dr. King was in Tennessee to lend his support to the garbage workers striking in Memphis. While he stood on the balcony of his hotel room in 1968, King was assassinated, felled by one bullet. His life was cut short at the age of 39. Though his days on the earth were done on that spring day, his work continued and lives on even now. Around the nation and around the world, people mourned his loss. His influence and impact on the equal treatment of people lasts until this day.
One man's dream became the shared dream of a people seeking unity, building that unity one day and one person at a time. The loss of his life was an appalling moment in American history, but the truth of his ideals of equal treatment and nonviolent protest continue to shape life in the United States and abroad. Not even death can destroy the goodness and rightness of Dr. King's dream.
King's Birth
King was born on January 15, 1929, in Atlanta, Georgia, to Michael Luther King, Sr. and Alberta King. Martin's given name, at birth, was Michael, like his father's, but his father changed both of their given names to Martin after a visit to Germany in honor of the Protestant leader, Martin Luther. King's father and grandfather were ministers, both pastoring the Ebenezer Baptist Church in Atlanta. Young Martin followed in his family's footsteps and chose the ministry as his vocation.
King's Education
King pursued his divinity education starting at Morehouse College, where his father and grandfather had gone to school, earning a Bachelor of Arts degree. He also graduated from Crozer Theological Seminary with a Bachelor of Divinity degree, then moved on to Boston University, ultimately garnering a doctorate. He was ready to start life as a minister.
In 1954, he accepted the call to pastor the Dexter Avenue Baptist Church in his new bride's home state of Alabama, in the city of Montgomery. (Incidentally, he copastored his father's church in Atlanta from 1960 until his death.)
King and Civil Rights
King was already a member of the NAACP's (National Association for the Advancement of Colored People) executive committee. In 1955, he participated in the nonviolent bus boycott, which ultimately led to desegregation of buses.
Two years later, King was elected president of the new Southern Christian Leadership Conference (SCLC), which was formed to guide and coordinate civil rights activities. With this group, King combined the principles of Christianity and the nonviolence techniques used by Gandhi.
In 11 years with the SCLC, King traveled more than six million miles to give over 25,000 speeches. Somehow, with that schedule, he found time to author five books and many articles for newspapers and magazines. His presence and leadership were so influential that thousands of people participated in the nonviolent protests he led. One of the most famous was the gathering of one-quarter million people in Washington, D.C., where King delivered his now famous "I Have A Dream" speech. King was once named Time magazine's "Man of the Year," and even earned a Nobel Peace Prize.