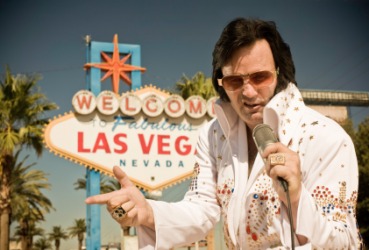 Elvis was one of the most influential singers of the twentieth century, and he drastically changed music throughout the United States and throughout the world. Yet, how much do you really know about his life?
When Elvis Died
By the end of his career, Elvis was merely a shadow of his former self. By 1977, he had become extremely overweight and used pharmacopoeia every day. On August 16, 1977 Elvis was found unconscious on the floor of his bathroom, and was declared dead later that day.
When Was Elvis Born?
He was born on January 8, 1935 in Mississippi, in the town of Tupelo. His parents were Vernon Elvis Presley and Gladys Love Presley. He actually had an identical twin brother, but the brother died during childbirth.
His family was poor, and his father moved from one job to another without really having a career. For the first part of his childhood, Elvis lived in a two room house. Neighbors and family would often assist the Presley family by giving them extra food or money. He grew up in a religious household, and his family frequented the Assembly of God church. It was here that Elvis first discovered his passion for music.
Elvis' Early Music Interest
When Elvis was in the first grade, he entered a singing contest. The singing contest took place at a Mississippi and Alabama Fair and Dairy Show. It was his first public performance. Elvis dressed up in cowboy boots and a cowboy shirt, and sang the song "Old Shep." He didn't win the contest, but he did place fifth overall.
Shortly afterwards, Elvis received his first guitar as a birthday gift. He began taking lessons at his church, and also learned from his uncles. As Elvis grew older, he began taking his guitar with him to school. He would play songs during lunchtime, although he wasn't popular at the school.
In fact, he was referred to as a trashy kid who sang hillbilly songs. However, he gained one friend at the school, who took him to a local radio station. When Elvis was twelve, he performed on the radio. Although he suffered from stage fright during his first performance, his second performance was much more successful.
Relocation to Memphis
In 1948, Elvis' family relocated to Memphis in Tennessee. Elvis took a music class at this new school, but his teacher told him that he didn't have the talent for singing. He received a C in this class. One of his neighbors, Jesse Lee Denson, began tutoring Elvis in playing the guitar.
Elvis soon formed a band with this neighbor and some other boys, and they would perform around the local area. Around the same time, Elvis was also teaching himself how to play music by ear. He would often go to record stores and memorize songs. In 1953, he competed in the Annual Minstrel show and sang "Till I Waltz Again with You." This performance showed his classmates how talented he was.
Elvis' First Musical Success
After high school, Elvis focused on his music. He was rejected from a couple of auditions with groups, because he was told that he couldn't sing. However, a studio recognized his talent and suggested that Elvis work with two other musicians—Winfield Scotty More and Bill Black.
It was with these individuals that Elvis began to develop his unique style of performing. The group began performing live, and gained momentum on the radio. By 1955, Elvis was becoming a star. He was voted the most promising male artist by the County Disc Jockey Convention. He signed with a major recording company, RCA Victor. He signed for forty thousand dollars, an amount that was extremely high for the time. Elvis was on his way towards fame and his well known career.