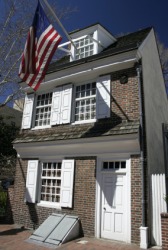 Given the fact that she is credited as being the woman to make the first American flag by hand, people that are interested in American history are often interested in Betsy Ross. Whether this story is a myth or truth, no one can deny the sheer interest that the story of Betsy Ross creates. There is a lot to learn about the woman that is supposedly responsible for creating America's stars and stripes red, white and blue flag.
The Birth and Death of Betsy Ross
The life of Betsy Ross is both simple and interesting. She was born as Elizabeth Griscom on January 1, 1752 in Philadelphia, Pennsylvania. She was number eight of seventeen children and was raised by her mother and father. She was raised in a strict environment as a Quaker.
Betsy Ross died on January 30, 1836. She was originally buried in Philadelphia at a Quaker burial ground. Her remains were removed from their original location at the Quaker burial ground and placed in Mt. Moriah Cemetery in Philadelphia twenty years after her death.
A year before the United States bicentennial in 1975, arrangements were made to have the remains of Betsy Ross removed from the cemetery in Mt. Moriah to the Betsy Ross House courtyard as this was the location where she supposedly lived while making the first American flag.
It is said that workers were not able to find Ms. Ross' remains under her tombstone at Mt. Moriah. Upon search of the rest of the family plot, bones were discovered that the workers assumed belonged to Betsy Ross. These remains were then taken to a tombstone at the Betsy Ross House where her remains are located as of today.
The Legend of Betsy Ross
Knowing when Betsy Ross was born and when she died is just a small part of her very interesting life story. Known as the woman who sewed the first American flag, Ross began sewing as a child after being taught by her great aunt Sarah Griscom. She later apprenticed for an upholsterer named William Webster. During her apprenticeship she met her future husband John Ross, she and John later became partners in an upholstery business.
Betsy Ross successfully ran the upholstery business on her own after her husband John Ross was killed by a gunpowder explosion while performing guard duties with the local military. In order to support herself, it is said she began sewing and repairing uniforms and other items for the Continental Army. Two marriages and six children later, Ross continued to run her upholstery business while reportedly making flags for the United States until the late 1820s.
Controversy Surrounding Betsy Ross and the American Flag
While many visit Betsy Ross' House in Philadelphia to commemorate the life of the woman believed to have sewn the first American flag, there are those that dispute Ross' place in history.
Some people do not believe that Ross made the first flag. However, Ross' grandson William J. Canby stated before the Historical Society of Pennsylvania that Ross told him on her deathbed that she made the first American flag by hand.
There is even speculation that George Washington visited her house in Philadelphia with a sketch of the flag that he was interested in having made. There is also speculation that she suggested the use of a five-pointed star as opposed to a six-pointed star.
Although some people dispute Ross' involvement with the creation of the American flag, there is proof that she did make flags for the Pennsylvania State Navy and there are receipts which show her compensation for those flags.