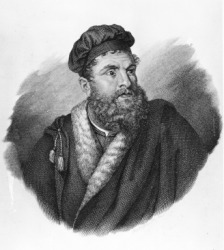 Marco Polo came from the country of Italy and was born in Venice. His biggest contribution came from his writings about his travels and the time he spent in China.
Marco Polo was a merchant, explorer, and writer. He was born around the year 1254 and died on January 8, 1324 in Venice. Twenty four years of his life was spent in Cathay, which is now China, and traveling to and from there. Marco Polo was born into a wealthy family of Venetian merchants during a time when Venice was leading the world in foreign commerce. His father Niccolo and uncle Maffeo had already traveled to China by the time Marco was six years old, where they were very well-received by Kublai Khan. Khan sent them to Rome in 1269 with a message for the pope. He wanted the pope to send 100 Europeans to share knowledge with him. The pope did not do this, but the Polo brothers returned to China in 1271 taking Marco with them.
Marco Polo's Travels and Life
With Khan's approval, the Polos set up trade agreements within China. While they were there, Marco kept detailed accounts of customs, events, and business dealings. Khan read these to keep up with developments in his empire.
Marco wound up traveling over much of the Khan's Empire and even beyond.
At that time, his empire was the biggest land empire in history and included China, Korea, Mongolia, Persia, Armenia, and Turkistan. Parts of these countries were also included: Burma, Vietnam, Thailand, and Russia.
During the time that he spent in Kahn's empire, Marco became his representative in the city of Yangchow, China.
Soon, the Polos wanted to return to Italy and enjoy their wealth but Khan did not want to lose them and their service.
They found their opportunity in 1292, when they were sent to Persia and then to Rome.
Marco Polo's Time in Venice
Marco spent the rest of his life in Venice, Italy the country where Marco Polo came from.
He served in the war with Genoa in 1298 and was captured and imprisoned.
While he was in jail, he dictated the account of his travels to a writer who published the book The Travels of Marco Polo. This book was significant in telling people about the Far East and helped make people want to trade with China and other countries there.
His book was translated into other languages and contained a lot of useful information. His maps were accurate as were his descriptions of life in the Far East. It helped pave the way for other explorers who wanted to find a quicker way to the East and one of those explorers was Christopher Columbus.
In 1300, Marco married Donata Badoer and they had three daughters. He became very ill in 1323 and died on January 8, 1324. He was buried at the San Lorenzo di Venezia church.