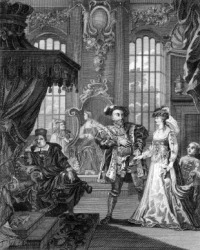 King Henry VIII led a very interesting life and was married six times!
Number of Times King Henry VIII Was Married
Believe it or not, King Henry VIII was married six times! Interestingly, King Henry VIII was distantly related to all of them through their ancestor King Edward I of England.
Wives of King Henry VIII
Let us take a look at some of the facts about the six wives of King Henry VIII.
Catherine of Aragon
Originally, Catherine of Aragon had been married to King Henry's brother, Arthur. Once he died, Catherine and Henry were married. Story has it that Catherine was truly loved by the King. However, she bore him no sons who lived past infancy, which is the reason why many believe that he ultimately decided to divorce her.
King Henry asked for papal dispensation of the marriage because he said he had married his brother's wife. However, he had already begun having an affair with Mary Boleyn, which is another cause for his request from the Pope.
The Pope would not grant his request for dispensation of the marriage, and this ultimately led King Henry to break away from the Roman Catholic Church and to start the Church of England.
Anne Boleyn
Thomas Cranmer, the Archbishop of Canterbury at the time, declared that the marriage of the King and Anne Boleyn, the sister of Mary Boleyn, was legal. Within only three years though, the marriage turned sour. Anne gave the King a daughter; but, she was not able to produce any sons for him. A conspiracy occurred, on which Anne was accused of adultery, incest, and high treason. There was certainly not enough evidence against her, and it was clear that the King just wanted a son. Because of these false accusations, she was beheaded.
Jane Seymour
There are a group of people who believe that Jane Seymour was his favorite wife. Interestingly, she was the only one who bore him a son, who was named Edward VI. However, she experienced complications from giving birth to him and died only a couple of weeks later, at the young age of 29.
Anne of Cleves
Anne of Cleves was only married to King Henry for a short time period-six months-in 1540. However, she was able to get her marriage with him annulled because she said that she had a pre-contract of marriage with Francis I, Duke of Lorraine. During the settlement, she was given Hever Castle. She remained friends with different members of the royal family and outlived the King and his last two wives.
Catherine Howard
Like her first cousin Anne Boleyn, Catherine Howard's days with the King ended in terrible sadness. He accused her of adultery. Before she was beheaded, she called out for mercy to be shown upon her family and upon her soul.
Catherine Parr
King Henry VIII was the third husband of Catherine Parr. Her first two died within a rather short time of each other, and the King was soon to follow. After the death of the King, Catherine Parr went on to marry Thomas Seymour.
King Henry VIII's Expectations
When you look at how many times King Henry VIII was married, it is easy to see that he was a ruthless man who would have his wives beheaded if they did not do what was expected of them, especially in terms of child bearing.