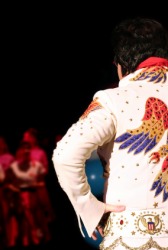 Elvis Presley died on August 16, 1977, at the age of 42, the cause of death was covered up by his family.
How Elvis Presely Died
In November, 1973, Elvis was admitted to the hospital for pneumonia, pleurisy, hepatitis, and an enlarged colon. He had been battling his dependency on prescription drugs and his weight and general health problems for a while. He continued to perform, but was hospitalized again for health and drug dependency problems.
He won his third and final Grammy award for the song "How Great Thou Art" for Best Inspirational Performance. All three Grammys he received were in gospel music.
In April of 1977, Elvis was again hospitalized and had to cancel some of his tour. On August 16th, he returned to Graceland after a late appointment with the dentist. He went to his bedroom around 7:00 am to rest before en evening flight. He was later found in his bathroom and rushed to the hospital, where he was pronounced dead from cardiac arrhythmia.
What caused his heart to stop was an overdose of prescription drugs. His father, Vernon Presley, had the autopsy report sealed until 2027. It is suspected that he had taken a cocktail of prescription dugs, including Morphine, Demerol, Chloropheniramine, Placidyl, Valium, Codeine, Ethinamate, Quaaludes, and an unknown depressant. His body was interred at Graceland. So the answer to, "How did Elvis Presley die?" would be from an overdose of prescription drugs that caused his heart to stop.
Who Was Elvis Presley?
When thinking about, "How did Elvis Presley die?" you reflect on his worldwide fame and fortune. He certainly left his mark on the music of his time as the "King of Rock-n-Roll."
Gladys Presley gave birth to twin sons on January 8, 1935. The first was stillborn, but the second was alive and healthy, and was named Elvis Aaron.
Elvis grew up in a working class family, and at the age of 10, he performed a song in a talent contest and came in 5th. The next year, he wanted a bicycle but his parents could not afford one, so his mother talked him into a guitar instead. In high school, he performed at a talent show and won, he even performed an encore.
Elvis signed on with an agent named Bob Neal, in 1955. That same year he met "Colonel" Tom Parker, a promoter and manager, and toured with Tom Snow. He begins to gain popularity, especially with girls in the audience. He signed a contract with RCA Records at the end of 1955.
His first recording session was in 1956 and one of the songs was "Heartbreak Hotel." It sold 30,000 copies in three weeks, and became his first single to sell over a million copies. He also signed a movie contract with Paramount Pictures this same year.
He made the headlines on June 5, 1956 by giving a sensuous performance of "Hound Dog" on the Milton Berle Show, which left many adult viewers shocked.
Ed Sullivan said he would never have him on his show, but reconsidered when he saw the big ratings TV shows received when Elvis appeared. The first Ed Sullivan show Elvis performed on was on September 9, 1956. This year also saw the release of Elvis' first movie, Love Me Tender.
In 1957, Elvis bought Graceland and in 1958, was inducted into the Army and served until 1960. During that time, he met Priscilla through a mutual friend. In the next seven years, Elvis' fame grew and he filmed more movies, which then totaled 26 movies.
He married Priscilla in May of 1967. His first television special was taped in 1968, but by then, he was ready for a change as he missed performing live. He filmed his last movie (number 31) in 1969, Change of Habit and started an engagement in Las Vegas, which was highly successful. The next few years were filled with more touring and more engagements in Las Vegas.